For the last DasBike-In Movie Night we'll be featuring a whole night of local bike films by the Bay Area's finest!
As usually, we'll have free dinner and could totally use help in the kitchen as early as 4:30pm! Come early to help out!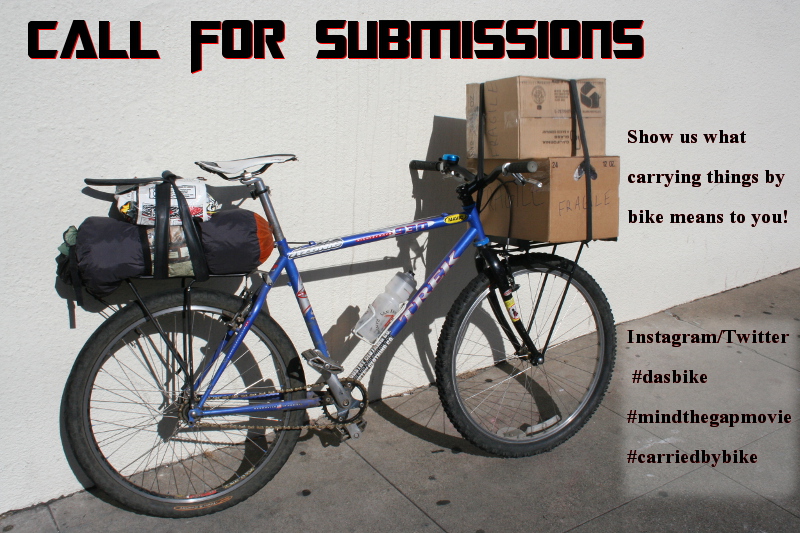 Call for Photos – The Art of Carrying Things by Bike!
To get you in the mood for this month's screening, we're asking for your participation!  Have you carried things by bike and captured it on film (digital or otherwise)?  Post your photo to Instagram or Twitter using Hashtag #dasbike, #mindthegapmovie, #carriedbybike to share photos of your carried by bike set up.  Did you use your bike for camping?  Moving?  Carrying your cat?  Bringing home dinner?  Carrying your friend?
Whether you carry a little or a lot, bikes are a fashionable way to carry all sorts of stuff.  We'll be creating a slide show of your pics and showing them before the films.   Post by midnight Monday, May 26. And when posting, feel free to include a short note on where you were going with your stuff and how much fun it was to carry it by bike!
Join in on the pre-event action via Facebook
More info about the film series
About the Films/Filmmakers
Huckleberry Lain – Antiquities for the Queen of Angels
Ghostly images of our past surround us. This award winning film utilizes animation as a form of
architectural restoration to envision many of the decaying cinemas in downtown Los Angeles as they once looked in the Golden Age of Cinema.
Huckleberry has made over 20 short films both independent and as commissioned projects. Screened film across the world including the New York Underground Film Festival, LA Children's Film Festival, the Damah Film Festival in Hiroshima, Japan, the Punto y Raya Festival in Madrid, Spain and other locations. He obtained a Masters in Fine Arts from the University of Southern California in Digital Arts and Animation. Studied under leaders in the field of filmmaking both inside and outside of academia including Mike Kuchar, Bradley Eros, Kathy Smith, Christine Panushka, Maasaki Tanabe and many other esteemed filmmakers. Board Member of the art organization NewTown based in Pasadena, California where he now curates and organizes exhibitions and film screenings. Works with the iotaCenter, a nonprofit organization for promoting and nurturing abstract animation, produced and curated countless events, the DVD's of Adam K. Beckett and Bill Alves and facilitated many interactions with artists all across the world. Recently started a grassroots art gallery and film screening space called piXel (+) freQuency.
Trailer:
Laura Lukitsh – The Art of Carrying Things by Bike
The Art of Carrying Things by Bike, a short created to inspire bikers new to commuting by bike, yet enjoyed by those already carrying things every day.
Laura J. Lukitsch, is a filmmaker with a passion for biking, thanks to her new work-in-progress documentary film, Mind the Gap, a film about the gap in urban transit infrastructure, one that prioritizes car and not people.  She created the Mind the Gap web series which examines the joys of sustainable transit.  Other films include the feature documentary, Beard Club, and installation project, LOVE.
We'll have a contest for the best photo of your cargo bike! Share pics via Instagram #mindthegapmovie, #dasbike, #carriedbybike to enter! The crowd will vote on the favorite and the winner will be very pleased with a very delicious prize. . . .
Ellie is fascinated by how people build up different social frameworks around bikes. Creativity by bike, quirkiness by bike, social innovation by bike, parties by bike. The list goes on! Hence her blog,
The Bike Beat
. Basically, she believes
 that a wide array of conversations about the way we exist in the world can stem from bicycles. 
She also moved here on a solo, self-supported bike tour around the Northwest US–San Francisco was very deliberately the last stop on her way, just in time for Tour de Fat 2013!
 She's an aspiring storyteller across digital media, and is currently the Communications Assistant at the SF Bicycle Coalition. 
If you know of any innovative bicycle happenings, or want to be a contributor to The Bike Beat, please let Ellie know! Interested in collaborating with people who like to tell bike stories through sound, web, words video, photo, infographics, animation, painting, printmaking, zine-making, etc.
The Spinster is a psychological thriller that follows a
cycle vixen looking for love as she rides the streets of San
Francisco. Phoebe, a smart and sassy bike mechanic, feels instant
chemistry when she meets Michael at her favorite haunt. Will this
charming newcomer be the one, or just another link in the chain? When
her crush spins out of control, Phoebe learns that love is a vicious
cycle.
Kristin Tieche is an award-winning producer and editor.
A creative force in the world of independent and documentary
filmmaking, she has edited documentaries that include the Sundance
2008 Audience Award winning "Fuel," and the 2009 PBS/Independent Lens
film, "Power Paths." Her 2011 film, "Forms of Identification," won
Best Experimental Film at the Reynolda Film Festival 2012. Her most
recent film, "The Spinster," is currently in festivals.
Tieche holds a Master of Arts in Television, Radio and Film from the
S.I. Newhouse School of Public Communications at Syracuse University,
where she received awards from the National Academy of Television Arts
and Sciences in screenwriting and sound design. Her work as an editor
at CBS has also received two Emmy nominations.
Also, Kristin will have merchandise available for sale after the movie!
Trailer:

Neighbors Developing Divisadero interviewed bike riders at the Western Addition Sunday Streets in September 2012 to find out their tips for sharing the Wiggle with other cyclists, drivers, and pedestrians. Featuring Susan King, Director of Sunday Streets ("I always slow my roll….Slow and go!"), Morgan Fitzgibbons, Divis neighbor/co-founder of the Wigg Party ("Make eye contact … and smile") and Divis neighbor/interviewer Pauli Ojea ("The Wiggle is my best friend late on a Friday night"). Produced/co-edited by Amy Farah Weiss, founder of Neighbors Developing Divisadero, and filmed/co-edited by Divis neighbor Paul Hudson.
Neighbors Developing Divisadero creatively, collaboratively, and strategically supports the development of the Divisadero Corridor and surrounding neighborhoods through a lens of cultural enrichment, social justice, and sustainability. NDDivis develops and facilitates opportunties for Divisasdero neighbors to actively participate in shaping, protecting, and enriching the neighborhood we live in and love.
Special thanks to Good Eggs and Numi for hooking us up with tea and strawberries!